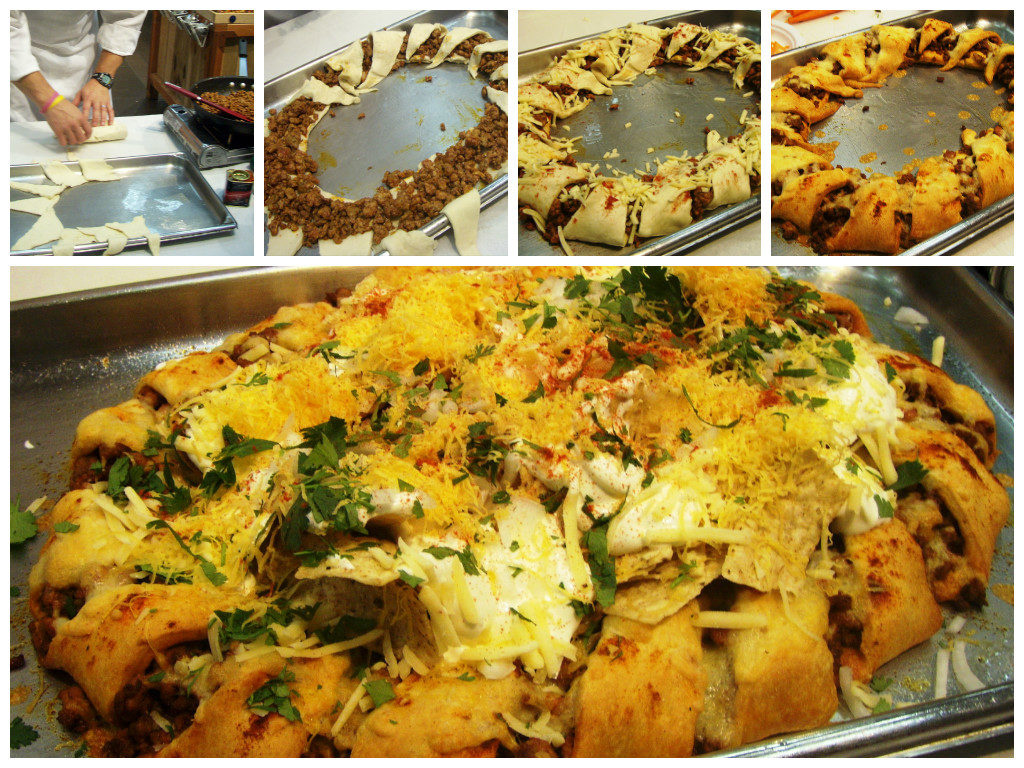 Prep time: 10-to-15 minutes; cooking time: 20-to-25 minutes
Ingredients
2 tubes (8 oz. each) refrigerated crescent rolls
1 ½ lbs. bratwurst; remove meat from casings
½ Tbsp. smoked paprika (or to taste)
¼ tsp. chili powder (or to taste)
½ -to- 1 cup pepper jack cheese, shredded
Garnishes — nacho chips, shredded cheddar cheese, sour cream, diced onions, smoked paprika, chopped parsley
Directions
Preheat oven to 375° F.
In large skillet, add bratwurst meat, ½ Tbsp. paprika, chili powder; cook until done; drain meat; set aside.
Carefully separate crescent triangles; arrange triangles in a circle on large greased baking sheet w/narrow ends of triangles pointing out, wide ends overlapping in center (should look like sun w/hollow center).
Spoon cooked meat evenly onto widest end of each triangle.
Fold triangle points over meat filling, tuck under wide ends (meat will be visible).
Sprinkle pepper jack cheese, little paprika on top crescent ring.
Bake uncovered for 15-to-20 minutes or until golden brown; fill center of ring w/nacho chips topped w/any leftover meat, shredded cheddar cheese, rest of pepper jack cheese for last 5 minutes of baking.
Remove ring from oven; garnish filling w/more cheese, sour cream, onions, paprika, parsley.