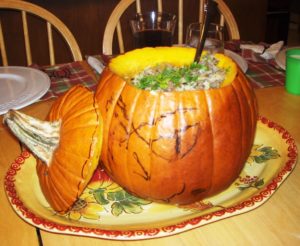 Karen Opalka's Dinner in a Pumpkin
Prep time: 30 minutes; cooking time:1 to 1/2 hours
Serves 6         
Ingredients
1 small to medium pumpkin
1 medium onion, chopped
1 medium leek, cleaned and chopped
2 Tbsps. vegetable oil
1 ½ to 2 lbs. ground beef
2 Tbsp. soy sauce
2 Tbsps. brown sugar
1 cup mushrooms, (fresh or canned)
Salt & Pepper to taste
1 (10 3/4 oz) can of cream of chicken soup (can substitute cream of celery)
1 1/2 cups cooked rice (use your favorite—white, brown or wild rice)
1 (8 oz) can sliced water chestnuts, drained (optional)
Garnish—chopped parsley
Directions
Preheat oven to 350° F.
Cut off pumpkin top; thoroughly clean out seeds.
Paint face on pumpkin w/permanent marker or acrylic paint; set aside.
In large skillet, heat oil over medium-high heat; add onions and leeks, sauté until tender.
Add beef, cook until browned; season w/Salt & Pepper; drain and discard grease from skillet.
Stir in soy sauce, brown sugar, mushrooms and soup into meat mixture; lower heat to medium.
Simmer 10 minutes, stirring occasionally; add cooked rice and water chestnuts.
Season w/Salt & Pepper (if necessary); spoon mixture into cleaned-out pumpkin shell.
Cover top of pumpkin w/foil; put whole pumpkin on baking sheet; bake for 1 hour or until inside of pumpkin flesh is tender.
Put pumpkin on serving plate, spoon out meat mixture and scoop out pumpkin flesh.
Enjoy!