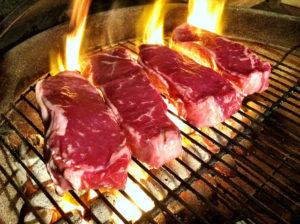 Brian's Grilled Steak & Mushrooms
Serves 4
Prep time: 5 minutes; cooking time: 10-to-20 minutes
Ingredients
4 Kansas City or New York Strip Steaks—at least 1-inch thick
Seasoned salt
Montreal steak seasoning® (can substitute your favorite brand)
2 Tbsps. olive oil
1 cup Gorgonzola cheese, crumbled (can substitute blue cheese)
Sautéed mushrooms (recipe below)
Directions
Preheat grill.
Set out meat for ½ hour to bring to room temperature.
Coat w/olive oil.
Lightly season both sides w/seasoned salt (1/2 tsp. per strip).
Grill on high heat; 3-to-5 minutes per side for medium rare.
Remove from heat; rest for 5-to-10 minutes on plate.
Season one side of steak w/Montreal steak seasoning; sprinkle cheese on top.
Spoon sautéed mushrooms over cheese; serve.
*Photo courtesy: _BuBBy_ @ flickr.com
———————————————–
Sautéed Mushrooms
Ingredients
3 Tbsps. butter
1 to 2 cups baby portabella mushrooms
2 tsps. garlic, minced
1/3 cup onions, diced
Directions
Melt butter in large skillet over medium-high heat.
Sauté mushrooms, garlic, onions in skillet until mushrooms are tender, onions are translucent (about 10 minutes).