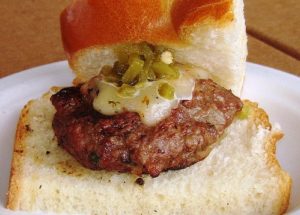 Chef Tee's Pepper Jack Cheeseburger
Serves 4 to 6
Prep time: 5-to-10 minutes: cooking time: 10 minutes
Ingredients
2 lbs. ground beef (80 % meat, 20% fat)
1 cup onion, chopped
2 Tbsps. mint, chopped
1 Tbsp. favorite hot sauce
Salt & Pepper to taste
Challah bread slices or hamburger buns
Garnishes — mild pepper jack cheese, jalapeno relish
Directions
Preheat grill to medium.
In large bowl, use hands to mix all ingredients except buns, garnishes.
Form 10-to-12 same size meatballs; flatten each into ¼ -inch size patties; season both sides w/Salt & Pepper.
Put patties on hot grill; cook about 5 minutes on each side for medium well (or to desired doneness).
Serve on bread w/pepper jack cheese, relish or favorite condiments.
*Note: If you don't want to grill the burgers, you can cook them on the stove over medium-high heat in a pan coated with oil.