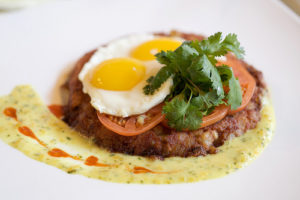 Chef Tee's Corned Beef Hash with Two Eggs Over Easy
Serves 4
Prep time: 15 mins.; cooking time: 10-to-15 mins.
Ingredients
1 lb. russet potatoes, 1/4-inch diced
1 lb. cooked corned beef, cut into chunks
1 cup onions, chopped
¼ cup medium red pepper, chopped (optional)
2 Tbsps. vegetable oil
¼ cup heavy cream
2 Tbsps. flour
1 Tbsp. parsley, chopped
Salt & Pepper
Eggs over easy (2 per serving)
Sliced tomatoes
Hollandaise sauce (see recipe below)
Directions
Cook potatoes in boiling, salted water until just tender (about 3 minutes).
Pulse beef in a food processor until coarsely chopped.
In medium skillet, heat oil over medium-high heat; add onions, sauté until slightly browned.
In large mixing bowl, combine onions, beef, red pepper, cream, flour, parsley and potatoes;  season to taste w/Salt & Pepper.
Portion out hash into four, 6-ounce, dough-like balls (may need to add more or less flour to form balls); flatten them out into patties.
Cook in large, greased, non-stick skillet over medium-high heat.
Cook on one side about 5 minutes; flip; cook another 5 minutes or until crispy.
Garnish w/tomatoes, eggs and Hollandaise Sauce.
———————————————
Chef Tee's Hollandaise Sauce
Ingredients
3 egg yokes
1 Tbsp. lemon juice, freshly squeezed
½ cup unsalted butter, melted
Hot water (optional)
Salt & Pepper to taste
Directions
In a blender, combine egg yokes, lemon juice; cover, blend on high speed for about 5 seconds.
While blender is still running, remove cover, slowly pour in hot butter; sauce should thicken.  (If too thick, add a little hot water.)
Season to taste w/Salt & Pepper.
*Photo courtesy:  KStudios