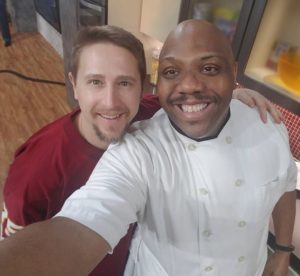 For more than a decade, Salt & Pepper Chefs's home cook Brian Reeve and professional Chef Terrell Danley (aka Chef Tee) have been shaking things up in the kitchen.  This dynamic, interactive duo educates the masses about food while bridging the gaps between races, cultures, communities, home cooks and culinary professionals.
Meet Brian (pictured left)
After a full day of work as a project manager in Bethesda, Maryland, Brian has about an hour to make a quick, cost-effective and kid-friendly meal for his wife and three  children.  However, he does it with ease partly because great cooks run in his family.  Read more.
Meet Chef Tee (pictured right)
Washington, D.C. native Terrell Danley, aka Chef Tee, is one of the most well-known and respected chefs in the nation's capital.  His stints as Executive Chef for Georgia Brown's, The River Club, Sam & Harry's Restaurant Holdings and Clyde's of Chevy Chase are just some of his resume highlights.  Read more.