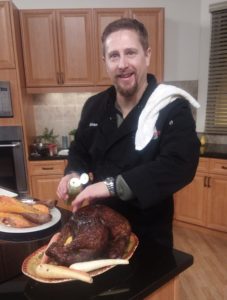 After a full day of work as a project manager in Bethesda, Maryland, Brian has about an hour to make a quick, cost-effective and kid-friendly meal for his wife and three  children.  However, he does it with ease partly because great cooks run in his family. 
Growing up in Denison, Iowa, a town of roughly 7000 where nearly everybody knows your name, Brian (a high school wrestling star) spent a lot of time in the kitchen learning from his mom while she prepared amazing meals for her family.  Brian's dad, a hog farmer, who later took a job in the meat packing industry, did his share of cooking for the family too.  Brian spent a lot of time at his dad's knee, watching him grill.  That's why Brian loves to grill today.  So much so, that he often cooks outdoors regardless of the weather.  "Rain, snow—doesn't bother me," Brian laughs. 
Although, Brian loved bonding with his parents over food, his true passion for the culinary arts didn't surface for years.  Learning new techniques from television cooking shows, he developed the confidence to cook like the pros.  Now, Brian shares his skills with the public.  He's cooked on Fox 5, WUSA 9 and been featured on WHUR.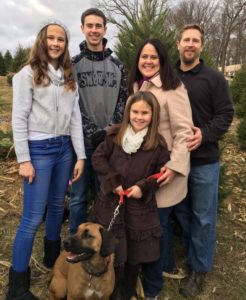 Ironically, Brian met his wife Stephanie years ago while she was working in the Marriott Hotels' culinary department.  She often worked the front end as a waitress or server but was never interested in getting behind a stove. Now, she is the envy of all her friends whose husbands can't cook. 
Whether it's French, Italian, Chinese, or Japanese—doesn't matter because Brian loves to experiment in the kitchen.  When his kids give him a hard time about eating something new, Brian urges them to keep an open mind.   "The rule in our house is you have to try everything once," he says.
Brian is pictured with his wife, their son, Dylan and daughters, Chloe and Addison, who is pictured holding the leash of their family dog. The Reeves live in Derwood, Maryland.