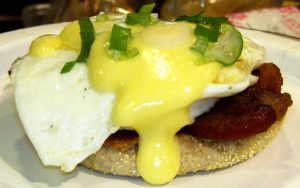 Brian's Eggs Benedict
Serves 2 to 4
Prep time: 5 minutes; cooking time: 10 minutes
Ingredients
2 English muffins, cut in half, buttered, toasted
4 eggs over easy
4 slices of Canadian-style (or your favorite) bacon
Hollandaise sauce (see recipe below)
Garnish — chopped green onions
Directions
Top each English muffin half w/following and enjoy!…
1st layer — bacon
2nd layer — 1 egg
3rd layer –1-to-2 Tbsps. Hollandaise sauce
4th layer — a few chopped green onions
——————————————————————

Hollandaise sauce
Makes about 1 cup
Ingredients
3 egg yokes
1 Tbsp. lemon juice, freshly squeezed
1/2 cup unsalted butter, melted
1 Tbsp. hot water
1 tsp. hot sauce
Salt & Pepper to taste
Directions
In medium glass or stainless steel bowl, add eggs, lemon juice, hot sauce, hot water; whisk to combine; set aside.
In medium sauce pot, add 1/4-inch water; bring to boil over medium-high heat.
Place bowl w/egg mixture on top of sauce pot w/water to form double broiler.
Whisk egg mixture while slowly adding 1-to-2 Tbsps. butter at a time; do this until all butter is added (if mixture gets too thick, add 1-to-2 tsps. hot water.)
Remove egg mixture from heat; season to taste w/Salt & Pepper.
Cover; keep warm until ready to serve.