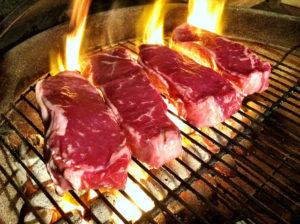 Chef Tee's Grilled Steak
Prep time: 5 minutes
Cooking time: about 10 minutes
Ingredients 
4, (12-to-14 ounces) New York Strip Steak, angus or prime
2 Tbsps. canola oil
2 Tbsps. Montreal seasoning salt
3 ounces melted butter
2 Tbsps. Montreal steak seasoning
Directions
Pre-heat grill.
Set out meat for ½ hour to bring to room temperature
Coat steaks with oil; season with seasoning salt.
Put steaks on hot grill; cook to desired doneness (3-to-5 minutes per side for medium rare).
Allow steak to sit for five minutes.
Drizzle butter over steak.
Sprinkle Montreal steak seasoning over meat.
*Photo courtesy: _BuBBy_ @ flickr.com