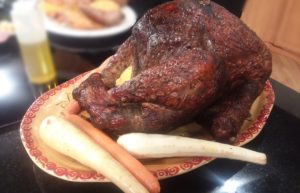 Brian's Grilled Whole Turkey
Serves 6 to 8
Prep time: 10-to-15 minutes; cooking time: 2 ½ to 3 hours
Ingredients
1 (12 lbs.) turkey
Olive oil
½ cup Rubbed Dalmatian Sage
6 Tbsps. dried thyme
3 rosemary sprigs
2 bay leaves
1 apple (favorite variety)
1 lemon
Salt & Pepper
Smoke box (instructions below)
Directions
Prep grill with smoke box for indirect medium-high heat.
Remove giblets, neck from thawed turkey (cook giblets, neck or freeze them).
Rinse turkey w/cold water; pat dry w/paper towels.
Gently pull skin away from meat as much as possible around thighs, breasts, back, etc.
In small bowl, mix sage, thyme together; spread mixture between skin and meat.
Rub olive oil on top of skin; season w/Salt & Pepper.
Cut apple, lemon in half and place them w/bay leaves, rosemary sprigs inside turkey cavity.
Put turkey on grill breast side up; tent top w/foil.
Grill about 15 minutes per pound; remove foil tent for last hour of grilling to brown bird.
Rest turkey for 10-to-15 minutes; serve.
———————————————————————–
Smoke Box
Ingredients
1 to 2 cups wood chips, damp (can purchase dry from local hardware store)
Large foil sheet
Directions
Place wood chips in center of foil.
Form smoke box by folding edges of foil together like envelope, so chips are enclosed.