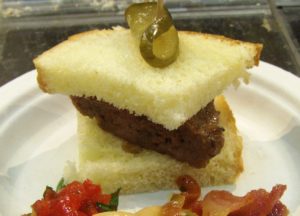 Chef Tee's Lamb & Beef Sliders
Serves 4 to 6
Prep time: 5-to-10 minutes; cooking time: 5-to-10 minutes
Ingredients
½ lb. ground lamb
½ 1b. ground beef (85/15 pkg.)
½ Tbsp. favorite seasoned salt (or to taste)
1 tsp. smoked paprika (or to taste)
Brioche bread slices or hamburger buns
Garnishes — bacon bits, diced peppadew peppers, relish, marinated butter beans
Directions
In large bowl, use hands to mix all ingredients except buns, garnishes.
Form 10-to-12 same size meatballs; flatten each into ¼ -inch size patties.
Put patties on hot grill or in large skillet w/ ¼ cup canola oil; cook about 5 minutes on each side for medium well (or to desired doneness).
Serve on bread w/garnishes, favorite condiments.