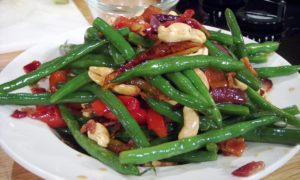 Brian's Tasty Green Beans
Serves 4 to 6
Prep time: 10 minutes; cooking time: 15 minutes
Ingredients
2 Tbsps. Worcestershire sauce (can substitute Teriyaki sauce)
1 Tbsp. honey
1 Tbsp. butter, softened
Juice from ½ lemon
1 ½ lbs. fresh green beans
1 cup smoked turkey breast (can substitute 2 strips bacon)
2 Tbsps. vegetable oil
½ cup red bell pepper, thinly sliced
½ cup yellow bell pepper, thinly sliced
½ cup red onion, thinly sliced
½ cup cashews, whole or halved
1 clove garlic, finely diced
Directions
Snap or cut off stems of green beans; set aside.
In small bowl, whisk Worcestershire sauce, honey, butter; set aside.
Fill large bowl w/cold water, ice cubes; set aside.
Bring large pot of water to a boil over medium-high heat; add lemon juice, beans; cook until beans are bright green (about 5 minutes.)
Drain; plunge beans into ice water to stop cooking; drain again; set aside.
In large skillet, cook turkey in oil over medium-high heat until crisp (if use bacon, don't need oil); transfer turkey to dish.
Add peppers, onions to skillet w/leftover turkey drippings; sauté; add garlic for final minute of sautéing.
Add beans, cashews, turkey, honey mixture to skillet; toss ingredients; serve.