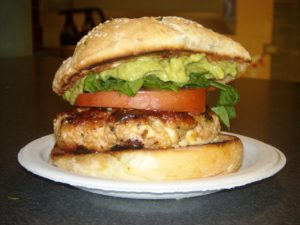 Brian's Turkey, Feta & Spinach Burger
Serves 4 to 6
Prep time: 10 minutes; cooking time: 10- to-15 minutes
Ingredients
1 lb. Koch's ground dark turkey meat
1 lb. Koch's ground white turkey meat
¼ cup feta cheese crumbles
 ¼ cup Dijon mustard
1-to-2 cups spinach, roughly chopped
2 Tbsps. balsamic vinaigrette (or enough to coat greens)
Salt & Pepper to taste
2 Tbsps. vegetable oil
Sesame seed buns — spread thin layer of bacon grease or softened butter on inside of buns then toast them
Garnishes — tomato slices, guacamole, spicy mayonnaise
Directions
In large skillet, heat oil over medium-high heat.
In large bowl, add meat, cheese, mustard, ½ cup spinach, Salt & Pepper; use hands to combine ingredients.
Use hands to form burgers (about 1/3 1b. per burger).
Put burgers in skillet (about two burgers at a time, so don't overcrowd pan); cook covered until done (about 4-to-5 minutes per side; may need to add a few Tbsps. water to skillet, so burgers don't dry out).  You can also cook burgers over medium-high heat on grill for even more flavor.
In medium bowl, add remaining spinach, vinaigrette; toss to coat.
Serve burgers on buns topped w/spinach salad, garnishes.